A320 Captain Non Type Rated
Open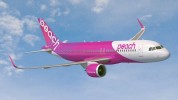 Company Info
We are looking for experienced Captains that can/want to fly the A320 and help build the bridge for air travel in Asia.
Peach Aviation was established in 2011 as a daughter of All Nippon Airways and started operations in March 2012. The company has been striving to become the 'bridge in Asia' and looks to bring people together at modest fares.
Peach has a high load factor due to an exclusive terminal and 24-hour operations combined with a strong focus on certain passenger experience factors such as reservations and check-in systems.
In 2015 they became the first airline in northeast Asia to receive the title of 'LCC of the Year' from CAPA.
In 2019 they merged with Vanilla Air, having 21 aircraft A320-200 on 39 routes and planning to grow to over 50 in 2020, on 50 routes, becoming the #1 LCC in Japan.
Fleet Info
26 A320-200 aircraft with average age of 4,4 years.
Requirements
Hold a valid JCAB, FAA or ICAO ATPL with A320 or other Jet with > 55pax,
4000 hours of total flight time,
1500 hours of P.I.C. time on Commercial Jets with over 55 pax. (B7*7 series, A3** series, CRJ series, ERJ series, F100, DC/MD, L1011),
Hold a valid JCAB / ICAO First Class Medical Certificate,
Aviation English Language Proficiency (Level 4 or above),
For NTR maximum age of 50 years.
We seek Captains that enjoy mentoring low-hour First Officers.
Salary & Benefits
You can request more information by emailing your details to our team: info@jobs4pilots.com
Roster patterns: Fixed pattern (4 Days on 2 Days off) and Normal Pattern (some requested days off) can be available.
Days off:
7 days off per month including travel days,
14 consecutive days off ( Every 2 months)
21 consecutive days off ( Every 3 months)
Benefits:
20 days holiday,
5 days sick leave,
4 days refresh leave,
Local Commuting Allowance,
Home Travel Allowance,
Staff Travel,
Layover Allowance,
Moving Allowance,
National Health Insurance,
Loss of license insurance,
Pension scheme,
Yearly bonus.
Interview Procedure
1. Documents screening,
2. Skype Interview,
3. Screening (3 days, SIM, Medical, and Interview),
4. Results after 10 days.
The team of Jobs4pilots wil provide assistance in all steps of the procedure, including visa arrangements, flights, hotel and other arranegements.
More info: peach@jobs4pilots.com
To apply: Apply via the link and afterwards upload license, medical, last 3 pages logbook, last PC and copy passport for our screening.
Location
Osaka
Publication date
12.07.2023
Contact person