Captain B767 Commute
On hold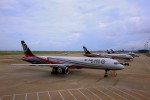 Company Info
A Boeing 767 Captain job with a cargo operator? Commuting contract at $290.000USD per year.
SF Airlines is a Chinese cargo airline owned by the SF Express Group, a Chinese delivery services company based in Shenzhen, Guangdong, China.

It is one of the two leading couriers in China, and provides domestic and international express delivery solutions to a wide array of customers.

SF Express has opened at least 13000 online shopping service community stores across all Chinese provinces and 15000 operating vehicles.

S.F. E-Parcel service network covers over 200 countries and regions worldwide, and international express services cover over 50 countries and regions including the United States, Russia, Japan, South Korea, Singapore, Malaysia, Australia, New Zealand, Canada, Brazil, and EU countries.

Revenue: 3 billion USD.

Shenzhen is one of the five largest and wealthiest cities of China and located immediately north of Hong Kong and has an actual population of 18 million people.

The airport is four years old and has a capacity of 45 million passengers a year, planning to open a third runway in 2023 boosting capacity to 100 million passengers.
Fleet Info
SF Airlines owns a fleet of 38 all-cargo aircrafts featuring B767, B757 and B737.
Requirements
We are looking for Boeing Captains that are interested in joining a cargo operator with a commuting contract of $290.000USD after tax per year.
Transition to B767 paid for by the airline, no bond.
Required:
Valid Boeing Type Rating.
Total Flight Time > 3000hrs.
PIC > 500hrs.
Class 1 medical.
ICAO English level 4 or higher.
Age under 54 years.
No incidents/accident/criminal record.
Last flight within 6 months.
Duty Roster: 4 weeks on duty, 2 weeks off OR 20 days on, 10 days off.

On duty roster:

1 week 1 day flight from Shenzhen
1 week on duty in Shenzhen
1 week overnight flights
1 week on duty in Shenzhen

Flight are from Tuesday till Saturday, Sunday and Monday are days off.
Salary & Benefits
290.000USD per year after tax.
Hourly pay of $360 USD.
Per diem of $5USD per hour after tax.
Housing allowance $1750 USD.
Transportation allowance $514 USD/month.
Annual bonus.
Safety bonus.
Medical and loss of license insurance.
10 days off per month (can do back to back) OR 4 weeks on 2 weeks off.
Contract renewal bonus.
Interview Procedure
Questions: contact Boudewijn van Heezik, Jobs4pilots at +66 937 487 338 or via boudewijn@jobs4pilots.com.
Apply: Send your resume with flight times to Boudewijn van Heezik, Jobs4pilots via email cargo@jobs4pilots or apply via the link.
In order to apply for a CAAC license the current license must be issued by one of these countries:

Africa: South Africa

North America: US, Canada

Oceania: Australia, New Zealand

Asia: China, South Korea, Japan, Sri Lanka, Singapore, Armenia, China Macau, China Hong Kong, UAE

Europe: Latvia, Norway, Portugal, Sweden, Spain, Italy, Ireland, Austria, Bulgaria , Belgium, Poland, Iceland, Denmark, Germany, France, Finland, Holland, Czech, Romania, UK, Turkey, Switserland.

South America: Columbia, Mexico, Venezuela, Chile, Argentina, Ecuador, Costa Rica, Brazil, Bolivia.
Detailed information
Location
Shenzhen
Contact person