Captain ATR-72 600
On hold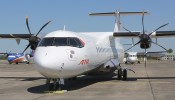 Fleet Info
ATR 72-500: 4 (1 on order)
ATR 72-600: 2
Requirements
Minimum flying experience - 2000Hrs,
Minimum PIC flying experience – 1000 hrs,
Minimum PIC on type - 100 hrs with current IR/PPC (Pilot's Proficiency Checks),
Recent experience - at least three takes-off and landings within the preceding 90 days on the type of aircraft applied for, or in a flight simulator approved for the purpose.
Salary & Benefits
ATR72-600: US$ 10,000 (Net of Tax)
Overtime: USD 110/hr towards any flying in excess of 80 hrs. (on scheduled block time) per month.
Housing at base location.
USD 5,000 performance bonus.
USD 5,000 per year to keep Home country licence current.
Company medical coverage.
Family vacation tickets.
Roster pattern: 08 Weeks ON/ 03 Weeks Off
Interview Procedure
To apply send your resume, license, medical and passport to: ATRindia@jobs4pilots.com
Procedure:
1. Documents screening,
2. Skype interview, when succesfull offer in 3 days,
3. Security clearance approval (takes 8-12 weeks in India),
4. Visa application and joining.
Location
India
Contact person