Boeing 737 Classic Captain
Open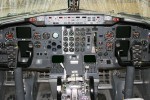 Company Info
For one of our clients we are urgently seeking 3 Type Rated Boeing 737 Classic (300/400) Captains to be based in Jordan and fly to European and African countries.
Fleet Info
The company has 4 B737 classic.
Vacancies and Requirements
We are seeking 3 Captain to fly from the base in Jordan to European and African countries.

Requirements:
Valid ATPL license with current B737 TR.
>5000 PIC hours with >2000 hours on B737 as PIC.
Salary & Benefits
$10,500 US per month; consists of basic $3000 US and $7,000 US (included transportation and seniority allowances).

TRI/TRE allowance: $1000 US per month.
Accommodation Allowance: $500 US per month.

Out of Base Allowance: $50 US/Night Stop out of Jordan, in addition to another 50 Usd$ per Ops flying day out of Jordan (to perform at least 1 flight)
$10 US per each performed sector base Jordan "Regular Flights".

Rotation: 45 Days on 15 Days off home base Jordan OR 60 days of vacation per year.
Pilot can take 30 days on 30 days off (30% from salary within the 30 days off)
During the transition period – once you arrive Jordan, you will be entitled for Hotel accommodation on BB bases and transportation arrangements and pocket money of 4,000 Usd$ a month providing not to exceed 45 days to be final clear 737 captain on the line and to be accepted by Jordan Aviation management upon performing one hour assessment and CARC validation of your license.
Interview Procedure
Send your resume, license, medical and passport to:
B737@jobs4pilots.com
and we will screen this within 3 days.
After that there is a Skype interview and a financial offer and the employment contract will be submitted.
Location
Amman Jordan
Contact person