B787 First Officer Non Type Rated
On hold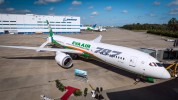 Company Info
Are you a First Officer looking for a challenge on the B787 with a Skytrax 5 star airline in Asia?
We are recruiting Non Type Rated First Officers for the B787 for the growing international fleet of EVA Air, rated #6 in the world by Skytrax.
EVA Air is waiting for delivery of 20 new B787 aircraft in 2020-2022 and to support the growth we are recruiting B787 FO's.
The company has stable passenger growth year on year and with a 5 star SKYTRAX rating and being the 3rd safest airline in the world this is a great company to work for.
EVA Air has over 250 expatriate pilots, making up 25% of the airline's total flight crew.
Why Taipei? Taipei is #1 in the Top Expat Destinations in 2019 according to Internations.
Fleet Info
The airline is based at Taiwan Taoyuan International Airport and its fleet currently consists of 22 A321's, 11 A330's, 3 B747's, 8 B787 and 39 B777's.
Requirements
2,000 total flight hours multi-crew plane (Jet + turboprop + others) with >500 hours in commercial multi-engine jet (MTOW >20 tons) OR
1500+ hours, 1000+ hours multi-engine, multi-crew jet, MTOW >20 tons,
Further:
Full ICAO ATPL, JAA ATPL or FAA ATPL with valid Jet type rating (MTOW > 20,000kg),
First class Medical,
ICAO Aviation English Level 4 or FAA English Proficient,
Pilots between 40 and 45 years of age need 500 hours on Jet with MTOW > 20 tons and experience with FMC and Glass cockpit,
Pilots above 45 years of age require PIC experience with advanced aircraft, max age is 50,
Bachelor degree and 2 years working experience OR 5 years working exp. as commercial pilot,
No-incident/accident certificate.
Salary & Benefits
7,500 USD (on 85hrs/month) + overtime ($89/hour) and per diem ($3) per duty hour,
Yearly bonus (1 month),
Minimum of 8 consecutive block free days per month,
22 paid holidays per year,
Tickets for pilot and family (also for pilots' parents): ID and ZED tickets,
Health insurance,
Loss of license insurance,
Housing is provided by EVA,
Commute option.
Upgrade As per their policy EVA only hires First Officers that can upgrade after 3 years of flying to SFO and to Captain 1 year later.
Roster: 5-6 flights, 85-90 flight hours per month.
The roster will come out usually 2 weeks before the end of month. EVA has a bidding system on their pilot's website, and they do the bidding monthly based on seniority, for the next month.
Interview Procedure
Due to the high amount of already approved applications the vacancy is on hold. When travel restrictions are lifted EVA will accept further applications.
When you submit your resume after August 4th you will be shortlisted, but not receive any appliocations forms.
For more information call our Hong Kong office on +852 8120 3118 or send us an email: evaB787@jobs4pilots.com.
To apply: send us an email or your resume and we will send you the application forms.
Next step is the 4-day assessment in Taiwan. Ticket and accomodation will be provided.
All 2020 assessment slots have been filled and we now accept applications for 2021.
Location
Taipei
Contact person