B777 First Officer Non Type Rated
Fulfilled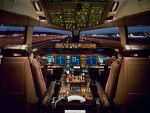 Company Info
Are you a First Officer looking for a challenge on the B777 with a Skytrax 5 star airline in Asia?
We are recruiting Non Type Rated First Officers for the B777 for the growing international fleet of EVA Air, rated #6 in the world by Skytrax
EVA Air was founded in 1989 and is the second largest Taiwanese Airline. They operate passenger and cargo services to over 40 international destinations in Asia, Australia, Europe and North America.
As of January 2016 EVA Air is also the 6th safest airline in the world with no hull losses, accidents or fatalities since its establishment and the ailine is ranking 3rd in TripAdvisor's Travellers' Choice. .
EVA Air has over 250 expatriate pilots, making up 25% of the airline's total flight crew.
Why Taipei? Taipei is #1 in the Top Expat Destinations in 2019 according to Internations.
Fleet Info
The airline is based at Taiwan Taoyuan International Airport and its fleet currently consists of 22 A321's, 11 A330's, 3 B747's and 30 B777's.
Requirements
2,000 total flight hours multi-crew plane (Jet + turboprop + others) with >500 hours in commercial multi-engine jet (MTOW >20 tons) OR
1500+ hours, 1000+ hours multi-engine, multi-crew jet, MTOW >20 tons,
Further:
Valid ICAO ATPL, JAA ATPL(A) or FAA ATPL,
First class Medical,
ICAO Aviation English Level Four or FAA English Proficient,
Pilots between 40 and 45 years of age need 500 hours on Jet with MTOW > 20 tons and expirience with FMC and Glass cockpit,
Pilots above 45 years of age require PIC experience with advanced aircraft,
Bachelor degree and 2 years working experience OR 5 years working exp. as commercial pilot,
No-incident/accident certificate.
Salary & Benefits
Base salary of 6600 USD (on 75hrs/month) + overtime ($89/hour) and per diem ($3) per duty hour,
Bonus (1 month) and base fee increase: payable on completion of 13 months from first operational flight,
Minimum of 8 consecutive free days per month,
22 paid holidays per year,
Tickets for pilot and family (also for pilots' parents): ID and ZED tickets,
Health insurance,
Loss of license payment,
Housing is provided by EVA,
Commute option.
Upgrade opportunity after three years.
Roster: 5-6 flights, 80-95 flight hour per month.
The roster will come out usually 2 weeks before the end of month. EVA has a bidding system on their pilot's website, and they do the bidding monthly based on seniority, for the next month.
Interview Procedure
For more information call our Hong Kong office on +852 8120 3118.
To apply: send us an email or your resume and we will send you the application forms.
We will go through your application and then send you an online test. (we will help you prepare for that)
Next step is the 4-day assessment in Taiwan. Ticket and accomodation will be provided.
Location
Taipei
Contact person