A330 First Officer
On hold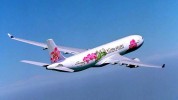 The company
Are you an A330 First Officer looking to join the flag carrier of Taiwan?
We are currently looking for A320 or A330 First Officers that would like to join a well-established flag carrier in Asia on the medium to long hauls. The wide bodies fly 55% of the time in Asia and 29% to the US.
China Airlines (CAL) is the largest airline of Taiwan. It is headquartered in Taoyuan International Airport and has 12,066 employees.
China Airlines operates over 1,400 flights weekly to 160 destinations in 29 countries across Asia, Europe, North America and Oceania.
Fleet Info
With over 50 years' experience their fleet is still growing rapidly and for their 24 A330-300's we are looking to recruit First Officers that are already Airbus type rated.
88 aircraft in total, 14 A350-900, 23 A330-300, 10 777-300ER, 4 747-400, 19 737-800, 18 747-400F.
Average years of aircraft: 9.5 years.
Vacancies and Requirements
For A330 TR FO's:
Total Flight Time of 1500 hrs.
Valid ATPL and current class one medical certificate.
ICAO English profciency level 4 or greater.
For A320 TR FO's:
1500 hrs on A320.
Valid ATPL and current class one medical certificate.
ICAO English profciency level 4 or greater.
Upgrade to Command: The minimum requirement for FO's to be considered an upgrade candidate will be at least 3 years with the company and a total of 4,500 hours of jet time.
Salary & Benefits based on 69 hours
A320 TR: $5300 USD / A330 TR: $5855 USD per month *
market allowance of $750/month
housing allowance $1244 USD/month *
per diem $ 5US/hour.
Commuting is possible travelling with confirmed cabin seats!
Overtime is $70USD/month for the first 15 hours, $82USD/month after that.
Unlimited interline discount tickets (ZED)
8 Consecutive days off per month.
2 days annual leave per month with additional days after 2 years of service.
Health insurance, accident insurance and loss of license insurance.
Tax rate in Taiwan is subject to number of dependents and pay.
Interview Procedure
For more information
: call Boudewijn van Heezik on +852 8120 3118 or send us an email:
cal330@jobs4pilots.com
.
To apply
: send us an email or your resume and we will send you the application forms.
We will guide you through your application documents, which will be reviewd by the airline.
Next step is the assessment which includes SIM check, interview(including oral test) and medical/physical check. Our team will prepare and assist you with every step.
Location
Taiwan
Contact person