A320 First Officer
On hold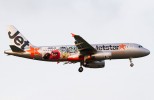 Company Info
Jetstar Japan is currently the largest Low Cost Carrier in Japan operating a fleet of 24 Airbus A320's with plans to grow to 28 aircraft by 2019.
JJP started with three aircraft flying to three cities and two routes in 2012. In its first four years of operations, it carried 15 million passengers, making it the fastest growing LCC in Japan in passenger numbers.
Jetstar Japan currently flies 24 routes to 14 domestic and international destinations, with over 100 flights per day.
The airline forms a key part of the broader Jetstar Group of airlines which operates more than 4,000 flights a week to more than 75 destinations. It's supported by its largest shareholders: Japan Airlines and Qantas Airways.
Fleet Info
24 Airbus A320 with an average age of 5,2 years.
Requirements
Full current ATPL (ICAO/EASA/FAA),
Minimum 1000 hours on the A320 family,
Minimum 2000 hours total aeronautical experience on fixed-wing aircraft,
ICAO level 4 or above English language proficiency,
Current Class 1 Medical Certificate,
PIC: Minimum 250 hours or at least 180 hours pilot in command under supervision and least 70 hours pilot in command.
Salary & Benefits
Annual base salary: contact our team for more detailed information; jetstarjapan@jobs4pilots.com.
Additional:
Prodcutivity pay after 60 hours per month,
Annual bonus,
Commuting allowance,
Housing allowance,
Layover allowance,
Annual leave,
Sick leave,
Staff travel (after 6 months of service)
During training: 100 % of base salary plus per diems.
Roster: Minimum 10 days off per month.
Commuting rosters: Current policy of 10 consecutive days off per month, with possibility of adding 2 annual leave days, giving 12 days off.
Taxes: tax is Japan is dependable on income level and factors as dependants, ranges from 5% to 40%.
Interview Procedure
To apply: Please send us your resume, license, medical ans passport: jetstarjapan@jobs4pilots.com
After document screening:
Online video interview,
Online psychometric test,
Assesment in Japan.
Flight and accomodation will be provided for the assesment.
Location
Japan
Contact person