A320 Captain
Open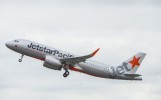 Company Info
Are you an A320 Captain looking to join a growing and highly motivated team in Vietnam?
For our partner Jetstar Pacific we are recruiting A320 Captains.
Jetstar is currently experiencing a rapid growth phase, with 5 new A321 neo aircraft arriving within the next 12 months. To meet the pilot demand they seek applications from qualified pilots who wish to join a motivated team in Vietnam. .
Jetstar now flies to 25 domestic and international destinations in 7 countries.
Fleet Info
Currently Airbus 19 A320-200, 12 new A320 arriving to replace older ones.
Requirements
Hours required:
>4000hrs Total Time,
>3000hrs on (multi crew) jet,
>1500 PIC hrs in on aircraft with MTOW 50,000kg,
1,000 hours EFIS experience,
500 PIC hours on A320 and current.
Further:
Hold a valid Air Transport Pilot Licence (ATPL) with a current A320 Type Rating,
English Language Proficiency Level 4,
Current Class 1 medical certificate,
Current Instrument Rating,
Maximum age: 63 years for males, 58 years of age for females.
Roster & Salary
11,570 USD per month (base fee and allowances), local taxes and fees paid by the airline.
Optional one-off relocation allowance of US$6,000.
ID tickets for pilot and family.
Jetstar Pacific is also studying on implementing the MyIDTravel for the second semester of 2019.
Roster: 73 block hours per month;
3 weeks on, 1 week off.
6 weeks on, 2 weeks off, (overtime rate per hour in excess of 146 block hours will be applied per designated 8 week cycle)
9 weeks on, 3 weeks off.
For Captains Only 4 weeks ON, 4 weeks OFF is an option! (lower salary)
Single room hotel accommodation at layover stations and suitable ground transportation to and from airfields at layover stations.
Interview Procedure
Call Boudewijn van Heezik on +66 937 487 338 for more infomation or send us your resume: vietnam@jobs4pilots.com.
To apply: send us your resume and a copy of your license, medical, passport and last three pages logbook.
Procedure:
Skype interview.
Online test.
SIM and assesment.
Documentation required:

 ICAO First Class Medical Certificate (Medical ECG Report for over age of 40)
 ICAO or Vietnamese ATPL for CA / ATPL Frozen for FO; w/current A320/321 type rating
 License verification (current within 2 months) from issuing national aviation authority
 Employment verification letter from current / first previous employer
 Criminal Background Check (within 2 months) with Vietnamese Consular Stamp
 Valid passport with minimum 2 years remaining at start of contract
 A320/IR Proficiency Check (last completed)
 Logbook documenting recurrent or equivalent training to be Type/IR qualified/current on A320/321
Detailed information
Location
Vietnam
Contact person