B738 TRI for 3 month re-activation project
Open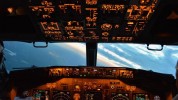 Company Info
For one of our clients in Asia we seek B737-800 Training Captains that can help reactivating the fleet. The training captains and pilots need to be reactivated in the start of 2022. The pilots you work with have substantial PIC and Instructor hours, so will be up to speed quickly.
Project is for 3 months (starting January) and positions to stay afterwards are considered. The trainings will take 60 legs of 1 hour domestic flights for each pilot.
Vacancies and Requirements
Must haves:
We seek TRI's that are recent and current on the B737 NG (last 6 months),
EASA, FAA or ICAO qualification,
Previous experience of (re) validating TRI's
90 day recency: 3 take offs / landings in last 90 days (SIM is ok if last flight <6 months),
Korean ATPL.
To apply: send your resume, license, TRI license and Trainer logbook to: B738TRI@jobs4pilots.com
Detailed information
Location
Korea
Publication date
08.11.2021
Contact person