B737 Captain - Commute
Open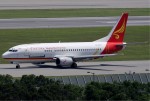 Company Info
Are you a Captain interested to fly a B737-800 in an vastly expanding network?
For the operations of a Shanghai based airline we are seeking B737 Captains for the expanding worldwide network.
Suparna Airlines (formerly Yangtze River Airlines) was established in 2002 in Shanghai as the transportation subsidiary of HNA Group.
After getting the passenger qualification in 2015 they are now committed to building a brand-new aviation company in China.
As of December 2016, Suparna Airlines operates a total of 22 aircraft, opening international and domestic passenger and freight routes to more than 60 domestic and international routes in the Mainland, Europe and the United States.
Since January 2003 the company always adheres to the "safety first" business philosophy resulting in the cumulative safe flight of more than 350,000 hours and maintaining a good record of safe operation.

As Suparna is expanding strongly in passenger aircraft in the next five years bases will also be opened on major transport routes that are current. Bases in Anchorage, Amsterdam, Munich and Chicago are likely to become available.
Fleet Info
Currently they have 22 Boeing 737, 5 of which are 737NG.
The 5 B787-800 of these are for passenger flights, 17 B737 are used for cargo.
Vacancies and Requirements
B737 CAPTAIN
Required:
Total Flight Time >5000 hrs.
>500 PIC hours
Valid Rating on B737-B747, or
Valid Rating on A320/330/350/380,
Age: not older than 55.
Valid ICAO ATPL.
First Class medical certificate.
Level 4 English.
Accident free.
Salary & Benefits
Contract Mode
Option A
Option B
Schedule Mode
60 hour month with 9 consecutive days off
60 hour month with 45 days on/15 days consecutive days off
Monthly Salary
USD 13.000
USD 12.000
Performance Pay
USD 2000
USD 2000
Type Rating Allowance

USD 1500

USD 1500

Base Allowance
USD 800
USD 700
Housing Allowance
USD 1800
USD 1800
Transport Allowance
USD 400
USD 400
Total Monthly Salary
USD 19500 after taxes!
USD 18400 after taxes!
Overtime
>60hrs/month: US$200/h
>60hrs/month: US$200/h
Annual Leave
15 days/year
15 days/year
Paid Sick Leave
7 days
7 days
Loyalty Bonus
12 months: USD 6,000
24 months:USD 12,000
≥36 months: USD 18,000
12 months: USD 6,000
24 months:USD 12,000
≥36 months: USD 18,000
Contract Renewal
Extend 3 years USD 20,000
Extend 3 years USD 20,000
Instructor Allowance
Class- B Instructor Allowance USD 800
Class- C Instructor Allowance USD1,500
Class- B Instructor Allowance USD 800
Class- C Instructor Allowance USD1,500

Ttickets + family

1st year: 2 international & 6 domestic
2nd year: 4 international & 8 domestic
≥3rd year: 6 international & 10 domestic
1st year: 2 international & 6 domestic
2nd year: 4 international & 8 domestic
≥3rd year: 6 international & 10 domestic
Interview Procedure
Detailed information
Location
Shanghai
Contact person