A330 First Officer
New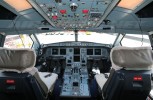 Company Info
For one of our clients we are urgently seeking 3 A330 Co-pilots to be based in Jordan and fly to European and African countries.
Fleet Info
The company has 4 B737 classic.
Vacancies and Requirements
We are seeking 3 Co-pilots to fly from the base in Jordan to European and African countries.

Requirements:
Valid ATPL license with current A330 TR.
>2000 total flight hours with on commercial jet with >1000 hours on A330.
Salary & Benefits
Total Salary: basic salary 4,100 Usd$ + 120 Usd$ for each day (120*30 = 3,600 Usd$ ) +20 Usd$ each day flying (around 500 Usd$) = $8,200 US
1 free home ticket round trip a year on economy.
30 holidays,
Rotation: 45 days ON, 15 days OFF.
Transport to and from the airport for duty purposes out of base will be provided by the company.
During the transition period – once you arrive Jordan, you will be entitled for Hotel accommodation on BB bases and transportation arrangements and pocket money of 3,000 Usd$ a month providing not to exceed 45 days to be final clear on the line as 330 copilot.
Interview Procedure
Send your resume, license, medical and passport to:
jordanA330@jobs4pilots.com
and we will screen this within 3 days.
After that there is a Skype interview and a financial offer and the employment contract will be submitted.
Location
Amman, Jordan
Contact person