A330 Captain (Reverse Roster)
New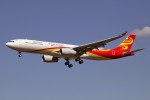 Company Info
Are you an Airbus Captain looking to fly the A330 with a reverse roster for the only five star airline in China?
Hainan Airlines is the largest privately owned air transport company and the fourth-largest airline in terms of fleet size in the People's Republic of China.
It operates scheduled domestic and international services on 500 routes from Hainan and nine locations on the mainland, as well as charter services.
Its main base is Haikou Meilan International Airport, with a hub at Beijing Capital International Airport and several focus cities.
Hainan is the only Skytrax 5 star rated airline in China and ranked number 9 in the world.
Fleet Info
Hainan operates 23 Airbus Aircraft with an average age of 4,9 years.
9 are A330-200, 14 are A330-300.
Vacancies and Requirements
10 Captains who are current on Airbus.
Required:
Total Flight Time of over 4000 hours.
Minimum 500 hours PIC experience.
Last flight within 12 months.
Valid and current ATPL and Airbus A320 or A330 TR.
ELP 4 or above.
Maximum age of 54 years old.
Salary & Benefits
Remuneration up to US $305,000 per year (after tax).
Benefits:
Children education support up to US $2000 per month.
Instructor allowance.
Health innsurance.
Loss of license insurance.
Bases in any of Hainan's destinations!
Roster options:
8 consecutive days off per month + 30 vacation days per year + 7 days sick leave per year + Extra CAAC Rest Time on-duty.
11 consecutive days off per month + 20 vacation days per year + 7 days sick leave per year + Extra CAAC Rest Time on-duty.
Interview Procedure
For more information email: hainan@jobs4pilots.com or call/WhatsApp our team on: +85266023897.
To apply; send your resume to us and we will contact you within 48 hours.
Location
20 Duty bases!
Contact person