A320 Singapore Roadshow
On hold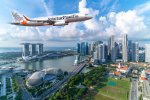 Company Info
Jetstar Pacific Airlines (JPA) is a joint venture between Vietnam Airlines and the Qantas Group.
The airline became the first low-cost airline in Vietnam when they launched in May 2008. At that date the Vietnamese government sold a portion of its shares in Pacific Airlines to Qantas. As such the airline adopted a low-cost operations model and adopted its current name, becoming part of the Jetstar network.
In February 2012, Vietnam Airlines bought a 70% stake in the company, Qantas Group holds 30 %.
Jetstar Pacific now flies to 25 domestic and international destinations, with regular flights to Thailand, Japan and Singapore and charter flights to many destinations in China.
The airline is going through a very quick expansion and to attend their demand, they are looking for qualified pilots who wish to join this company that in 2016 received the "Best Employer Brand Asia Award".
Fleet Info
They now operate a fleet of 15 Airbus A320 aircraft and wait for 5 more A321neo at the second semester of 2019.
Vacancies and Requirements
(Senior) First Officers:
3,000 total hours,
(3000) 1,000 hours multi crew, multi turbine (jet preferred),
500 hours on A320 type and current,
ATPL frozen
For upgrade these are the criteria: 3000 hrs TFT, 1500 hrs on type in a commercial airline.
For upgrade: It is advised to get the full ATPL before the CAAV license validation as they will only validate one license. Other option is to get a separate procedure at a CAAV approved ATO (BKK or SG).
Direct Entry Captains:
4,000 total hours,
3,000 hours jet airline aircraft (multi crew operations preferred),
500 hours command on A320 type and current.
Salary & Benefits
First Officer: Monthly Base Salary $7,380 USD, tax paid by JPA. $560 USD x 1 Available day payment/month (paid yearly),
Captain: $11,570 USD, tax paid by JPA. $840 USD x 1 Available day payment/month (paid yearly),
Staff Travel: Jetstar Staff travel, during 2019 onwards 'My ID Travel' will be implemented,
Unavailable for Duty Bank: 12 days per year. Days not used are paid out annually (CA $10,080 USD / FO $6,720 USD),
Medical/Health Insurance: Coverage through our agencies. Discount rates available for dependants at pilots expense.
Duty Roster Schedules: 1) 3 weeks on-1 week off,
2) 6 weeks on-2 weeks off,
3) 9 weeks on-3 weeks off,
4) CA only: 4 weeks on -4 weeks off can be considered.
Training Days Pay: normal salary as per 4.1 Flight Hours.
Schedule and Procedure
July 24th: Face to face interviews in Singapore.
July 25th: Face to face interviews all day and Simulator sessions at Seletar from 19:00 to 23:00 hrs.
To attend; send your details to sgroadshow@jobs4pilots.com and our team will contact you in 24 hours to discuss the program and options.
More info: contact our team via +852 8120 3118 OR +66 937 487 338.
Detailed information
Location
July 24th and 25th
Contact person