A320 SFO Command Upgrade
Open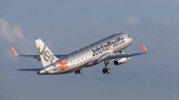 Company Info
Are you a A320 Senior First Officer looking for an upgrade to Command?
For our partner Jetstar Pacific we are offering SFO's an upgrade to Command.
Jetstar is expecting 5 new A321 neo aircraft arriving within the next 12 months. To meet the pilot demand they seek applications from qualified pilots who wish to join a motivated team in Vietnam.
The upgrade program takes 6-12 months in total, depending on your flight background.
Jetstar now flies to 25 domestic and international destinations in 7 countries.
Fleet Info
Currently 19 Airbus A320-200, 12 new A320 arriving to replace older ones.
Requirements
The Captain Upgrade Program is available for pilots that meet all the requirements for FO.
Minimum hours required:
TFT > 3000hrs.
Min 500 A320 hours.
Current on A320 or able to arrange a CCQ.
Further:
Hold a valid Air Transport Pilot Licence (ATPL) OR CPL with ATPL theory, with an A320 Type Rating.
English Language Proficiency Level 4.
Current Class 1 medical certificate .
Current Instrument Rating.
Maximum age: 63 years for males, 58 years of age for females
Roster & Salary
11,570 USD per month (base fee and allowances), local taxes and fees paid by the airline.
Optional one-off relocation allowance of US$6,000.
ID tickets for pilot and family.
Roster: 73 block hours per month;
3 weeks on, 1 week off.
6 weeks on, 2 weeks off, (overtime rate per hour in excess of 146 block hours will be applied per designated 8 week cycle)
9 weeks on, 3 weeks off.
Single room hotel accommodation at layover stations and suitable ground transportation to and from airfields at layover stations.
Interview Procedure
Call Boudewijn van Heezik on +852 6602 3897 for more infomation or send us your resume: vietnam@jobs4pilots.com.
To apply: send us your resume and a copy of your license, medical, passport and last three pages logbook.
Procedure:
Skype interview.
Online test.
SIM and assesment.
Detailed information
Location
Vietnam
Contact person